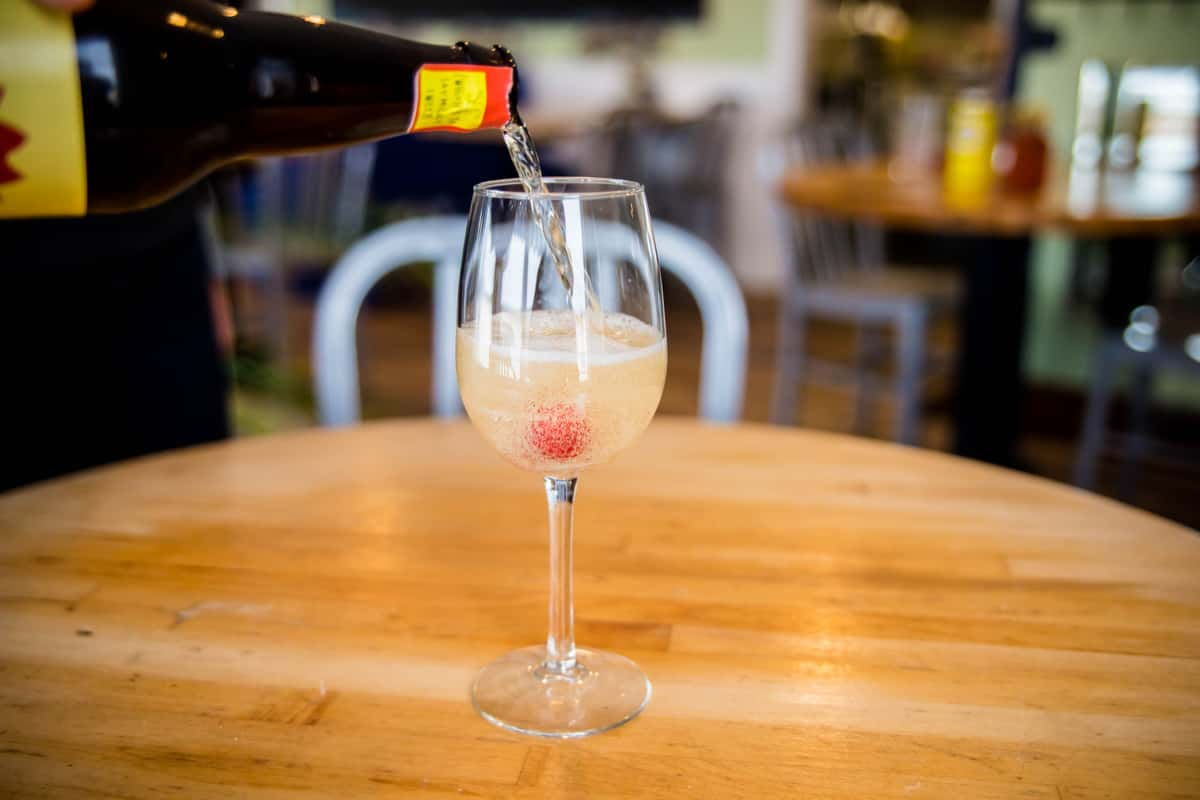 Beverages
Become a VIP
Be the first to receive updates on exclusive events, secret menus, special offers/discounts, loyalty rewards & more!
Beverges
Non-Alcoholic Drinks
Empire Soda
Bottled in Bristol, RI
Cola ● diet cola ● lemon-lime rickey ● root beer ● diet root beer ● raspberry-lime rickey ● ginger ale ● ginger brew ...$2
Saratoga Sparkling Water
The one in the blue bottle ...$3
Equal Exchange Organic Coffee
Fair trade gourmet coffee
Hot - $2.50 | Iced - $3
Brewed Iced Tea
Unsweetened ...$3
Hot Tea
A selection of herbal, green, black, white, and organic teas ...$3
Shirley Temple
With Empire lemon-lime, grenadine & a cherry ...$3
Honest Kids Juice Pouches
...$1.50
Lemonade
...$3
Half & Half
Our brewed iced tea & refreshing lemonade ...$3
Peach Half & Half
Brewed iced tea, lemonade and a shot of Monin Peach ...$4
Beer
Draft
Our Draft selections are LOCALS ONLY
(available when the outside bar is open)
...$5.00/pint
From Buzzard's Bay Brewery
A wicked cool, family owned brewery located 5 miles up Horseneck Road
Golden Flounder - 4.8% Alcohol
An easy drinking, unfiltered golden ale with wheat malts and zippy hops
Shandy Gaff
A cool pint of Golden Flounder topped with Spicy Ginger Beer.
Mayflower IPA - 6.1% Alcohol
A bold, well balanced, hoppy brew from Plymouth, MA.
Bottle
Sam Adams Lager ...$4.50
Sam Adams Light ...$4.50
Sam Adams Seasonal ...$4.50
Sol
Mexican brew served with a lime ...$4.50
Harpoon IPA ...$5
Harpoon UFO ...$5
Belgian style white beer
Served with an orange slice ...$4.75
Down East Hard Cider
Unfiltered and naturally gluten-free! ...$4.50
Fat Tire
Belgian style ale from Colorado ...$5
Non-Alcoholic Beer
BIG 22 oz Bottles ...$10
Buzzards Bay IPA 6.1% Alcohol
Alcohol American grown version of the classic
Buzzards Bay Moby D 5% Alcohol
German inspired with caramel malts and bittering hops
Tall Boy 16 oz Cans
Narragansett Lager
"Hi Neighbor" a local favorite with nostalgia!
...$4.50
Narragansett Light ...$4.50
Buzzards Bay Sow and Pigs
Kolsch-style with a kiss of hops ...$6
*BBB donates all the money from the sale to the Buzzards Bay Coalition
12 oz Cans
Mayflower Porter
5.2% Alcohol Smooth and complex blend of (3) distinct ales ...$5
Mayflower Golden Ale
4.5% Alcohol Crisp and clean with a dry finish (Plymouth, MA) ...$5
Wine
House
Sea Ridge
California - Chardonnay, Cabernet Sauvignon, Merlot ...$7 | $24
Sparkling
Lunetta Prosecco Brut
Italy - Light, fresh, frothy white wine with a touch of sweetness. A celebration in every mini-bottle! Small bottle ...$8
Westport Rivers Farmers Fizz
650 ML bottle ...$16
A fabulous Prosecco style fizz from our favorite local farm. Mildly sweet.
Poema Sparkling Rose
Catalonia, Spain - Lively and effervescent, reminiscent of summer berries ...$8 | $30
Red Wine
Angeline Pinot Noir
California
A favorite summer red. Light, ripe flavors of cranberry and dried cherries with a touch of sweet spice. ...$9 | $32
Callia Malbec
Argentina - Notes of spice and red fruits- fresh and elegant with great structure. Great paired with the surf-n-turf ...$7.5 | 30
White Wine
LaFiera Pinot Grigio
Italy - Clean and stylish with lots of fresh fruit flavors. ...$7.5 | $26
Westport Rivers Chardonnay
Award-Winning traditional Chardonnay with flavors of oak, apples, flowers & a hint of pear. Try with Bill's favorite Fish and Chips or panko fried scallops ...$9 | $30
Blue Fish Sweet Riesling
Germany - Fruity sweetness with a full-bodied structure. Refreshing with apricot, peach and pineapple perfume. Excellent with our Mussels and Fried clams ...$7.5 | $28
Kim Crawford Sauvignon Blanc
New Zealand - Dazzling with aromas of intense fruit and fresh cut grass, citrus and ripe stonefruit flavors. perfect with seared scallops and our Goat Cheese salad ...$10 | 38
Westport Rivers Rose of Pinot Noir
Westport, MA - A refreshing summer pink. Delicate with complex bouquet. The perfect summer sipper paired with our famous Lobster Roll! ...$ 8 | 28